Careers
Join our Wilsons Family today. View available roles below or email your cv to
[email protected]
now.
Wilsons is a fantastic place to work. If you ask any member of staff what they love about working here, we can guarantee they will say the people. Our employees are our greatest asset, making the company an enjoyable and exciting place to work. We are committed to attracting, retaining and developing people to build a diverse and talented team. Our board of Directors have all started their journey at Wilsons from a young age and worked there way up to management, and our business strives to promote from within. We have outstanding opportunities for employees to progress and develop. We offer the option to explore a variety of job roles and career paths. Head over to our current vacancies and find your new job at Wilsons today. We also offer a competitive benefits and rewards package.
Founded in 1904, the business stands as one of the largest privately and family-owned motor retailer groups in the South East. We are a proud franchised dealer and Aftersales Specialist for Hyundai, Nissan, Peugeot, MG, Renault, Jeep, Alfa Romeo, Fiat, Abarth and Dacia and an Aftersales Specialist for Citroen and Vauxhall too, meaning we can offer manufacturer standard training and development. We have over 1,000 new and used cars on site, as well as over 300 vans on one location at our vans centre, Loads of Vans, in North Cheam.
From aftersales to admin, sales executive to marketing, take a look at our range of exciting jobs. Don't see anything listed that appeals to you? Send us an email to [email protected] and we can see if we have something to suit you.
Want to know more about who we are? Watch our Youtube video to find out more about who and what Wilsons Epsom are and do.


View our live vacancies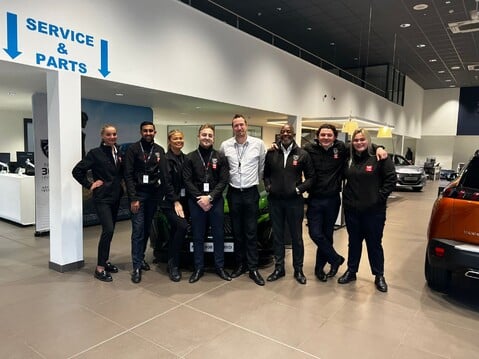 Our Mission & Values
Family. Values which have been in place since Wilsons was established in 1904. Generations of customers have come to try Wilsons and then relied on us time and again. Because we care.
Equality. Equality is vital for us as a business. We believe in creating a fair and inclusive environment for everyone. With only 16% of women working in the automotive industry, for us at Wilsons it is vital to have women working within our business, making a huge impact in the day to day running. From directors, shareholders, managers, prep, mechanics, administrators, marketing, HR, accounts and more, the women in our business are more influential than ever in how we operate.
Teamwork. We work together to meet the needs of our customers and to support each other. What makes Wilsons work is the people behind the company.
The Wilson's Process
Send us your cv to
[email protected]
or apply through one of our job postings, if you are a match our Recruitment Manager will contact you for a short telephone conversation and then you may be invited in for an in-person interview
Perk 1

Company-wide social events in the summer and at Christmas

Perk 2

Long service awards

Perk 3

Company car available for some positions

Perk 4

Discount on cars and aftercare MOT and Servicing